Sponsor Ad

Leg Muscle Weakness Exercise
(Scroll down for the Knee Marching balance exercise)


Sponsor Ad
Leg muscle weakness is a critical factor in maintaining balance in the elderly . By performing exercises that are designed to improve strength in the ankles and hips, like knee marching, you can increase your dynamic balance and thereby reduce the risk of falling.
Below I have made a great balance video that is fun and easy to do. All you need is a chair, comfortable loose fitting clothing, and a pair of smooth bottom shoes to wear so you won't catch your feet. Read on then give it a try.
Strong hips, knees and ankles are required to archive a better state of balance. Lifting your legs up and down works on the ankles, quadriceps muscles and hips. An overall great leg strengthener and balance workout.
By selecting exercises that work on these areas we can improve our performance in many of the daily activities which require reaching forward, to the side or rotating around to the back.
When we raise our hip up in the air, believe it or not we are momentarily standing on one leg. This is definitely a balance exercise. The slower you go, the harder this exercise becomes.
Make sure you hold onto a chair or someones hand when performing this exercise if you feel at all uncomfortable with marching. For a great workout, try marching for 2 minutes. Stop if you become winded, then continue until 2 minutes has passed.
Try this knee marching exercise for increased hip and ankle strength.
Sponsor Ad
Knee Marching
Loading the player...
Purpose of this exercise
This exercise will strengthen your ankles and hips.
It will also improve your dynamic or "moving" balance.
How to do it:
Step 1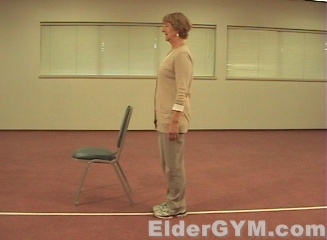 Stand with arms at sides, feet shoulder width apart.
Step 2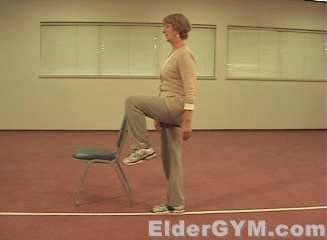 Raise one knee up as high as comfortable.
Lower, then raise the other knee.
Repeat 20 times.
Breathing:
Breathe normally, inhale through the nose and exhale out the mouth.
Tips:
Use a chair to hold on to while standing. Hold on with your finger, one hand or two hands.



Don't close your eyes or hold your breath.
Raise your arms out to the sides if you need more balance.
Take it up a notch:
Lift chest and look straight ahead to make standing more challenging.
Try adding a one pound ankle weight to one ankle.
You did it! Practice makes..... you guessed it...permanent!. Don't practice sitting in a chair unless you really want to be good at sitting in a chair. Good luck!
Sponsor Ad
Helpful links
Gerontological Society of America
Watch These Other Essential Balance Exercise Videos


Do you like these balance exercises? Download my ebook for FREE and also receive a bonus 4 week exercise program Click here!